Pat will work with you to customize a session that will energize and engage your group and give you the option to provide her latest book to all participants.
Key topics include:
Creating Your Own Perfect World
In a perfect world, everyon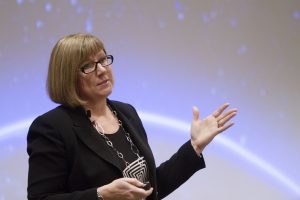 e would be good tempered, listen carefully and be accountable for their actions. We don't live in a perfect world, but each of us has a chance in our life time to create our own perfect world personally and professionally. We can masterfully manage the human component that often disrupts our "perfectly planned outcomes", which also means managing ourselves. In this engaging and thought provoking session, consider three keys for creating the relationships and outcomes you want in your life.
Negotiation: Building Partnerships
Negotiation has forever been viewed as a zero-sum game, with the success of one party being at the expense of the other. Today more than ever, we need to collaborate with others and create positive outcomes. In this interactive session explore the concept of interest-based negotiation and tips and strategies to enhance your negotiation toolbox to create better outcomes inside and outside your organization.
Picking Your Fights
Workplace conflict is a major source of stress, frustration and a leading cause of employee disability leave. Dealing with conflict can take valuable time and energy. Certain people "get under our skin" have "unreasonable requests" or a different style of working that "drives us nuts". The great thing about conflict is that we have choices at our disposal to help us resolve it. This session explores the world of workplace conflict and highlights strategies and approaches to help you manage conflict – rather than let conflict manage you!